Prospero Winery's Guide to Wine Grapes
As we continue to celebrate the 50th anniversary of Prospero Winery, we wanted to take some time to focus on one of the things that got us started with it all: the grapes. At Prospero, we're proud to use a variety of different grapes in our wine, and we thought it would be fun to share a guide to some of the most popular wine grapes.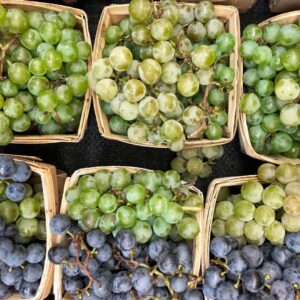 The Difference Between Red and White Grapes
Before we dive into specific grapes, it's important to understand the difference between red and white grapes. The skin of the grape is where most of the color pigment is found, so red wine gets its color from the red or black grape skins that are left in contact with the juice during fermentation. White wine, on the other hand, is made using grapes with white flesh, and the skins are removed before fermentation.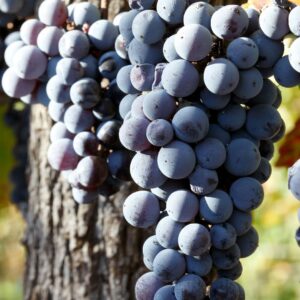 Cabernet Sauvignon
This dark-skinned grape is one of the most popular wine grapes in the world, and it's no surprise why. Cabernet Sauvignon wines are known for their rich, full-bodied flavor, and they pair well with a variety of foods. If you're looking for a wine to enjoy with a steak or other hearty meal, Cabernet Sauvignon is a great choice. Wines are meant to be enjoyed with food, after all, and we think that wine should enhance your meal, not compete with it.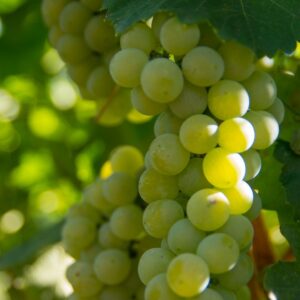 Chardonnay
A versatile white wine grape, Chardonnay is used to make a wide range of wines, from dry to sweet. Chardonnay wines are typically medium-bodied, with a creamy texture and a subtle flavor. These grape flavors are famous for their ability to change and develop over time. With sweet tones that age well, Chardonnay wine is a great choice for those who are after a sophisticated drink that has fruity, floral tones.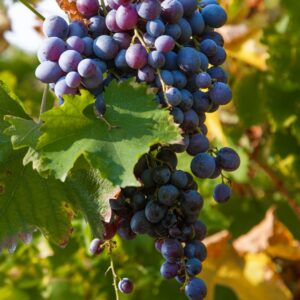 Merlot
A popular red wine grape, Merlot is known for its soft, velvety texture and its ability to make a glass of sublime Rosé wine. Merlot wines are typically medium-bodied, with flavors that blend well with a range of other red grapes such as Cabernet, Tempranillo, and Alicante Bouschet. Together, these grapes create some of the world's most popular wine blends.
More Red Varietals of special mention:
Alicante Bouschet
Alicante Bouschet is one of the few grape varieties that "squeezes" out red juice and is blended with other varieties to add color. Alicante grape is dark skinned with crimson pulp. Even though Alicante's color is intense and dark, the wine has very little acid and is actually light in body.
Barbera
This grape comes from the Piedmont region of Italy. The wine it makes has a distinct character with very high acid.
Carignane
Carignane produces one of the most natural, well balanced wines. Used in many blends to make easy drinking wines. It produces medium acidity
and color.
Pinot Noir
The most noble of grapes! Pinot Noir grape is used to make the Burgundy wines of France. The wines made from this grape are of an excellent quality.
Zinfandel
Known as "Primitivo" in Italy but, upon it's arrival in the United States it's name was changed to Zinfandel. Today, Zinfandel is the most widely
used grape in California.
It makes a wine that has fruity flavor with medium acidity and color. Zinfandel contains immense flavor, but is markedly low in acid. It needs a small amount of Barbera or Sangiovese to fully express its desirable flavor profiles. White Zinfandel grape does NOT exist! White zinfandel
blush wine is made with zinfandel grapes but, not fermented on the skins.
More White Varietals of special mention:

Chenin Blanc
Chenin Blanc is the most versatile white on the market. This variety can produce either a dry or natural sweet table wine. It is used to achieve quality table wines and also as a varietal wine. Any style of white wine can be made from this grape. Added to other noble varieties this adds body, pH balance, and depth.
Muscat
This variety is the most popular white variety shipped to home winemakers. It can produce a dry white wine, sparkling wine, or sweet wine with the
distinct Muscat aroma and flavor.
Sauvignon Blanc
A versatile variety with citrus aromas and pronounced grapefruit flavor. This makes a very fine, dry white wine of pronounced character. It can rival Chardonnay in popularity. This variety is fabulous with fish when dry, or delightful when made slightly sweet.
Viognier
The grape with the best floral characteristics. Viognier is added to whites for enhanced aroma, and often is added to Syrah in small quantities to
increase its fruitiness. Wines 100% Viognier tend to be yellow and lack acid.
For the past five decades, Prospero Winery has been crafting world-class wine using only the finest wine grapes. We're proud to source and supply California's best wine grapes to wine lovers all over the world. Even more so, we are proud to help home winemakers enjoy high-quality wines of their own. As we celebrate our 50th anniversary, we invite you to join us in raising a glass of Prospero wine and enjoying all that wine has to offer. Cheers!